So, we did not go home today. Parkers INR (coumadin level) was good today but his x-ray was not. It showed a small pleural effusion (fluid collecting around the lungs). The cardiologist was just not comfortable sending him home yet and told us he would increase his diuretic and we would probably go home tomorrow.

This is what Parker looked like this morning....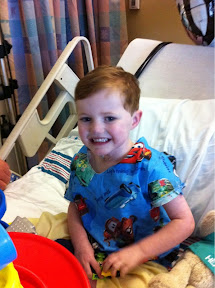 He was feeling great!
Praise the Lord we did not go home this morning! Parker started looking pale, breathing really fast and shallow, and was really tired. His pulse ox also dropped drastically in only 2 or 3 hours this evening. He was placed on oxygen and had another chest xray. The xray showed a pretty large effusion. We have moved back to the step down unit and have started aggressive IV diuretics.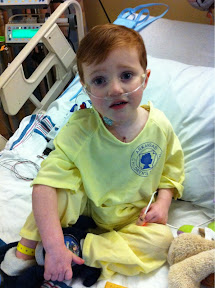 The cardiologist said normally with this size effusion he would go ahead and just do a chest tube to drain the fluid, but Parker has been on strong blood thinner. He would be at a very high risk for bleeding. He will be watched very closely tonight and if he gets worse or if in the morning it isn't better they will reverse the blood thinner and put in a chest tube.
He is doing good and still has a pretty good attitude, except for the oxygen in his nose! Hopefully he won't need that too much longer.
So, we will for sure be in the hospital for a little while longer...prayers for my sweet Parker ;)