When I met Dennis almost 10 years ago he had just purchased a very old and rusty 1952 chevy truck. He drove it for a while and then decided to restore it back to it's glory days. We have SLOWLY been doing things to it and a restoration guy has had it for the last few years.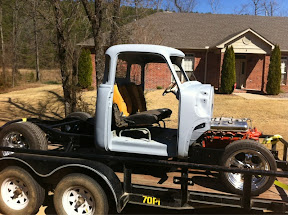 Well, we got the truck back this weekend and Dennis is beyond excited!! It still has quite a ways to go but it is definitely getting there.



I think Dennis is the most excited about Parker helping him with the old truck.

Parker told me that there wasnt enough room for me...only him and Daddy.

I just know over the next few years I am going to see two sets of legs sticking out from under that truck every weekend!


LOVE this picture of Parker..He is growing up way too fast!
We have also been having so much fun in the neighborhood!! All the kids are out playing....so fun!