Parker had a great night! His precedex drip (sedation drug) was stopped and he is more like his old self. He was sleeping so good when we got here this morning.





This morning he smiled for the first time! So good to see!
And then the big event of the day so far...he got up and walked!
We are so proud of him.
He walked around the unit 5 times! All of the nurses were very impressed. It took a team of a few people to hold all of his stuff and push his iv pole, but it was worth all the work!
Then he got to sit in daddy's lap for a while. He started falling asleep because he was totally worn out after the long walk.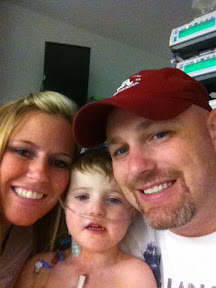 Our first family picture
Once he fell asleep in daddys lap we transferred him back to the bed but daddy had to go with him.
He curled up with Dennis and fell right to sleep...I must say I was pretty jealous!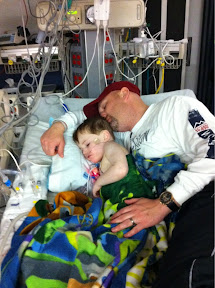 Now he is taking a nap.
Today he has done a 180 when it comes to his emotional state. I am so glad he is feeling better and that he is able to rest today. He also got to use the bathroom in a urinal...he told me that he got to pee pee on a tree! Tomorrow he will probably get all 3 of his chest tubes out and his RA line out! He is making huge progress and will probably only be in the ICU for a few more days.