The last two days have been pretty uneventful. Parker is doing well enough to go home, but we r waiting on his INR level to become therapeutic.
So, we have been hanging out in the playroom...


He is still pretty sore and has to be followed around with his huge iv pole and his heart monitor whenever he gets out of bed. Going potty is a chore! And he is on 3 diuretics!!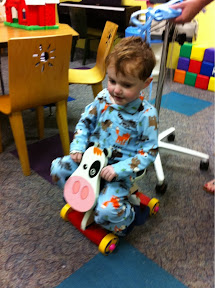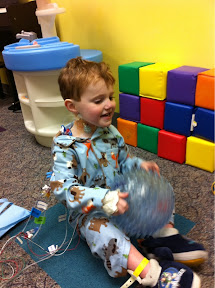 This morning we headed to get an echo. Parker got to ride in a fun wagon!
He did great during the echo. Mickey mouse was playing and he found a slinky dog to play with! I will tell u it was not fun having to leave that dog behind! But The good news is that the echo looked good.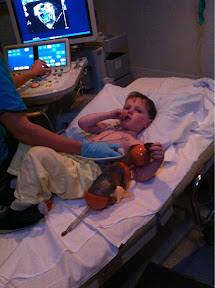 Since parker is doing so great, This afternoon, due to staffing and patient acuity, we were moved yet again! To the over flow CV floor. We are in a semi-private room with no roommates yet. The only bad thing about this unit is that there is not a close playroom, but we will make it work.
Still not sure when we will be going home. I'm hoping for the weekend.
Today, I was also able to go home and get a real shower and take some time for myself, thanks to my wonderful husband. It felt so good to take a shower with actual water pressure :)
I will update tomorrow when I hear a tentative going home time.
- Posted using BlogPress from my iPhone