After battling another day of dehydration and doing everything I knew to bribe Parker to drink, drink, drink, we got to come home yesterday!!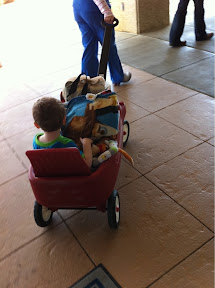 It was the absolute best feeling! and Parker did not know what to do with himself!! On the car ride home he started remembering all the fun things there are to do at home!
And when we got there all he wanted to do was swing, pajamas and all.
Then he got to wear real clothes! It was so funny, when I put shorts on him, he was very confused. He kept telling me to fix them and was trying to put them down like pants.
He has done so good at home so far! We are all getting back into our normal routine and we all slept so good last night! I was worried that Parker would wake up a bunch (because thats what he was use to in the hospital), but he slept from 8:00 pm to 8:30 am.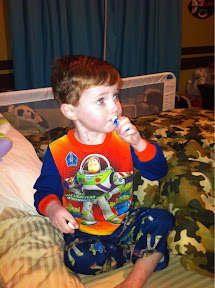 This picture is of Parker putting on daddy's chapstick (a part of his night time routine at home). We are just thrilled to be home! We still have to watch his water intake, but everything is going pretty smoothly. Thank you for all the prayers, gifts, notes, and dinners! We could not have made it through these 2 1/2 weeks without them! I know that we were in the hospital for a short time compared to a lot of people and that we are so blessed, but my bed was so heavenly last night =)