Tonight was the opening game for the Traveler's baseball season. I have actually never been to the new stadium, so I was excited!! The weather was perfect and Parker was beyond excited to see Sydney!! They havent seen each other since two nights before his surgery. So, it has been over a month!! He missed her =)

Parker was very excited to go see a baseball game! I think that he thought he was gonna get to play!
There is a kid play area. I was a little nervous about him playing around other rowdy kids, but I found a small bounce house that was empty (except for a tiny little girl). He had a blast jumping and it didnt seem to bother him at all. I still cant believe that he had heart surgery 4 weeks ago!
We sat over on a hill behind the out field so Parker and Sydney could run around. Well, Parker spent most of the time sitting in my lap. Im glad that he limits himself and rests when he needs to. I thought this picture was funny...He is definitley Mr Personality!
When he wasnt in my lap eating cotton candy, he was throwing the baseball back and forth with Stephen.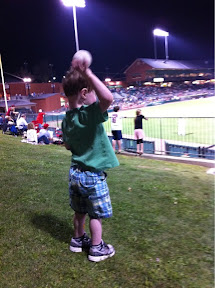 We had such a fun evening, thanks Stephen and Sarah for inviting us! I can see lots of evening at the Travs games in our future. We stayed out kinda late tonight and parker went to bed later than he has been, but he handled it great! We love this time of year! The neighborhood is coming back to life and everyone is out in their yards and hanging out on the driveways...my favorite time of year!!