This weekend was spent celebrating our mothers. On Saturday Dennis' family came over. We grilled and played outside, the weather was amazing!!




Parker had a blast! He was sooo dirty and sweaty.
I hate that I didnt take many picture!
On Sunday Parker brought me breakfast in bed. And then we went to church.
We spent the afternoon with my mom and both grandmothers. This is a weird picture of Parker and I but I wanted to remember him bringing me a hand picked flower. Such a sweet boy (most of the time). =)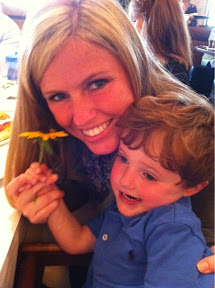 My sweet husband pampered me on mother's day. He is the best!
I am so thankful for my family. I thank God everyday for allowing me to be a mother to such a brave, strong and full of personality son. He truely brightens my day every single morning when he gets out of bed. Being his mommy isnt always the easiest job but it is the best job!!