Parker is in the cutest stage right now and one of his most favorite things to do is to go "potty on a tree". I am trying to control the situation and only let him do it when we are playing outside and he just HAS to go. He really only does it on the weekends, at our house and thankfully we have a pretty secluded back yard.




He is also saying some of the funniest things right now! He has learned who is a girl and who is a boy and tells everyone what they are. Now if anyone asks him his name he says "Parker Lee Evans the boy". If I do anything for him or hand him anything he will say "thank you mommy the girl!" He also wants to count everything but he has to count them in English AND in Spanish. Such a smarty pants!
This weekend the weather was kinda cold but it was a great weekend because Oliver came home from duck hunting training!! Parker missed him so much. We took the boys on a walk at 2 rivers park. I had never been there until Saturday, It is so close to our house and it the perfect place to have picnics, walks, runs, and maybe even family pictures =)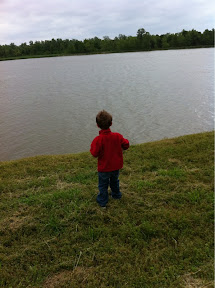 I dont know if it was Oliver's homecoming or Mother's day last weekend but Dennis decided that I needed a shot gun. I am one lucky girl =) I dont know if yall remember but I went duck hunting with Dennis last year and I used my brother's gun. Well, it was huge and my short arms could barely hold it up and pump it at the same time. So, Dennis decides I needed my own little gun. So, he got me a youth model and it fits me perfectly. Of course, this gun will most likely be Parker's when he starts hunting, but for now I get to use it.
And we had to shoot it!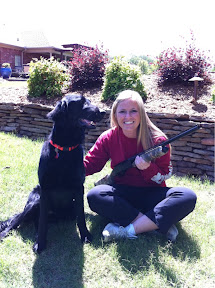 Here is a picture of my new gun and Oliver. He didnt get too much bigger over the last two months, and he is still the sweetest most laid back dog. He has adjusted to being back with us perfectly. We are all glad he is back, he really is a fun dog to have and he keeps little Bentley (our shiztu) on his toes!