I have been wanting to change my hair for a while but was just too scared. I mentioned it to my sister (who looks a lot like me) that I wanted to dye my hair brown. On Sunday she texted me and told me that she dyed her hair brown. She looked great and it gave me the courage to go for it!!! I am still getting use to it.....





Tonight we celebrated Tyler's 2nd birthday. It is so hard to believe that it has been two years since my parents adopted him. He has been the perfect addition to our big family and is a built in best friend for Parker...they really do love each other.

I couldnt get a good picture of the birthday boy because he is just all over the place these days. I did manage to get a quick picture while he was blowing out the candles!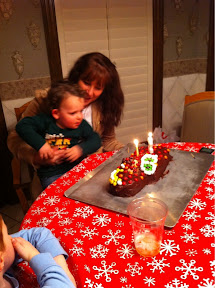 Happy Birthday Tyler!! Two years ago my family became complete with the addition of my fifth sibbling and I couldn't love him more!!
Sweet Parker. you cant really tell in this pictures but his left eye is so swollen. We have been to the doctor twice in the last two days for antibiotics and then an antibiotic shot. He got a sty and then it got infected and then it turned into cellulitis. It is so sad but I think we are getting it under control. He woke up this morning and couldnt even open his eye and said "mommy, I cant see!!" He is acting normal, just looks a little funny. =) He really is a trooper!