A few months ago Diane, Brittani and I planned a girls trip to Destin after I graduated. This past weekend we spent three glorious relaxing days in Florida with no husbands, babies, alarms, jobs or responsibilities!!



This was the view from my room....gorgeous! We each had our own rooms in a three bedroom condo (I think that made it even more relaxing!!)
We slept late, laid around, watched tv, read, at lots of yummy food, went to the outlet mall (a few time!) and just did whatever we wanted!
The weather was so nice, it was in the 70s and sunny everyday. So nice!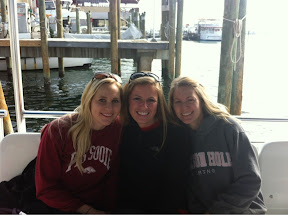 We rode the water taxi to the beach one day (it was a little chilly on the boat) and then just played on the beach for a while. We didnt go on the trip to lay out and swim but we had to make a trip out to the beach at least once ;)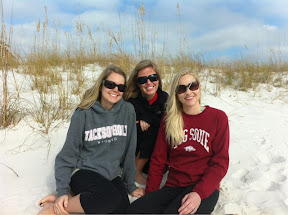 We thought it would be funny to take a picture like you see on people's Christmas cards, our little family =)
It was so amazing to get away for a few days.
Thank you husbands for taking on all the resonsibilities for a few days to let us re-charge!!! LOVE Y'ALL!!