This morning Parker was so excited about going to his new school!! He jumped out of bed and hurried to get dressed and could not eat his breakfast fast enough!! He was so excited about his new uniform, new shoes and new backpack!!



He looked so darn cute in his uniform!
And his backpack is as big as he is =)
We had so much fun taking him to school this morning.
It wasnt a sad time, no tears were shed. He could not have been more happy to be there and I could not be more excited that he has made it to K3!! Of course I am a little sad that he is getting so old but he just keeps getting more fun!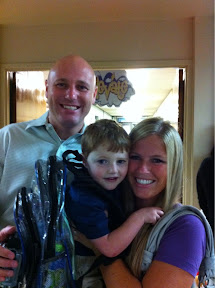 A few years ago, we didnt even know if he would be able to go to school but look at him now!!
He is absolutely in love with his teachers!
He ran to get in line, most of the kids wouldnt let go of their parent's hands but Parker was so excited to get this show on the road and get to his classroom!
He ran right into his classroom, found his hook and started playing. We waived goodbye from the door and he was a happy camper!
My sweet boy is getting so big and growing up right in front of my eyes! I could not be more excited about this next year for our family!!
I pray that Dennis and I as parents and Parker's new school help mold him into the young Christian man God wants him to be.
- Posted using BlogPress from my iPhone