Last week at school the kindergarten had "kite day" for the letter "K". Parents were asked to attend if they could to help fly the kites. It was a windy and pretty cold morning.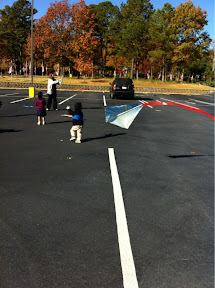 We got Parker's kite up a few time but he mostly just liked running with it =) It so fun to show up at school and see Parker's face light up because Im there!! He is so cute around all of his friends.
I love this time of year because it means lots of football! My brother's team has made it to the playoffs and Friday night was the first round. We won 62-7 and Justin (my brother) scored the last touchdown! We head to the second round this Friday night...it's so exciting!! And it is such a fun time to get to spend with my family!
A few funny pictures from my phone....Parker thought it was hilarious that he put Woody's hat on our dog, Bentley. He asked me to take a picture...
Bentley doesnt look too thrilled =)
School update: I competely finished all of my clinical hours yesterday!!! I have one test and a project left. I can't believe I am so close to being finished. Im sure all of my family and friends are ready for it to be over so I will stop talking about it =)
Cardiology update: We went to the Cardiologist last week and Parker is doing great! His pulse ox did drop a little from last time. so I am going to check it once a month and just keep an eye on it. No worries and we dont have to go back for 4 months! Can you believe the next time we go it will almost have been one year since he had surgery...wow! time flies when everyone is healthy and happy =)