This week has been busy but we managed to get some outside play time!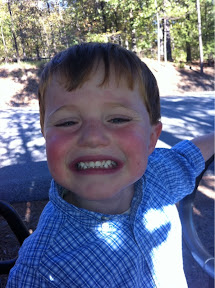 We, of course, did Parker's favorite thing....ride the ranger!
This week at school was Homecoming week and each day had a different theme. We did something small each day to go with the theme.
Monday was Camo day...
Tuesday was crazy hair day...(Parker was so excited about his blue hair!)
Wednesday was school colors day...(they were suppose to wear either blue or red head to toe)
Thursday was western day...(we dont have much in the area of western wear but we managed to pull a few things together, and Parker was thrilled that he could wear his cowboy boots to school!)
I ahve been studying alot this week and Dennis has had the job of keeping Parker busy so that mommy could study. I walked into the living room the other day and found this...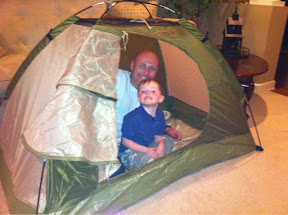 So, Parker has spent every evening playing with his cars and toys in there and every morning eating breakfast in that tent! They also have been practicing their duck calling skills!
Everything is going great, I am so close to finishing school I can hardly stand it! Parker is absolutely loving his school and learning so much and Dennis is about to start hunting season and I know he is excited about that. I may have to get out there with him some this year. This weekend we will be starting the first of many fall traditions and I am just so excited aboutthis time of year!!