This past weekend was a perfect fall weekend! Lots of footbal...the Razorbacks won!!


Parker posed in his Razorback gear in front of my front porch fall decor.
Parker also had his first play date with his new classmates!
Savannah, the one in the back, invited a few friends to her house for the afternoon. The weather was perfect and the kids were so excited to see each other outside of school!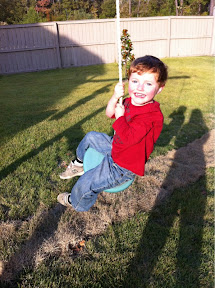 She had a fun swing set!
And we all decorated pumpkins!!
The kids had a blast and I am so excited to get to know all the parents better. Most of us will probably have our kids at this school together for the next 14 years!